Appearance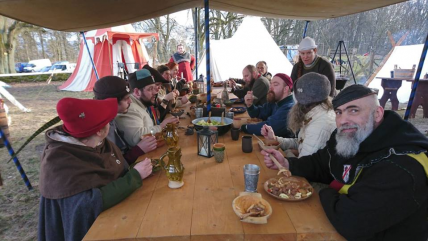 Our goal is to introduce market visitors in what life and atmosphere might have been like at the beginning of the 15th century. For this reason we present ourselves on mediaeval markets in the context of apparel authenticity as well as in our equipment as detailed as possible and allow a resurrection in a part of the historical and cultural way of life.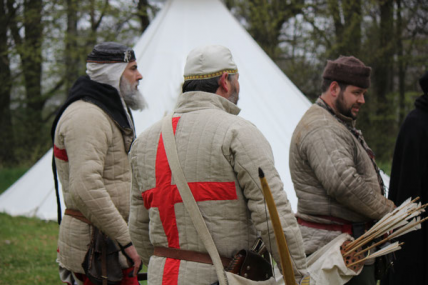 In spite of all detailed obsession it only can be guessed, what exactly the life of the people in the Middle Ages looked. Therefore, our group strives for the best representation in the present time, but in the knowledge that an accurate authentic implementation is only approximate due to today's lifestyle (we buy our food in supermarkets and do not slaughter the geese on the market).
Meanwhile, we present a stately camp  named  "Bowguard Duke of Lancaster ," and can enrich medieval events with our army camp. From the small camp with 8 tents we can also provide camps with international participation with currently up to 15 tents and a large  fly. We offer a bow-range with archery instruction,  warbow demonstrations, Naalbinding works, leatherwork, medieval cooking and much more.
Our Traders
Sueba Silubra – Schmuck und Zierrat Nadja Röhrich
Beutelschneider Lederwaren Maggi Tilp
Bow & Arrow – historischer Bogenbau Benjamin Johnson
Tuche und Gewandung – Der Gewandstand
Töpferei Kevin Eckersley
Mels Seifen
Drechselwaren mit Gunnar Ranson
Thors Schmiede und Pafum
Lemberg - Rüstzeug und Zubehör
Fellerey Groschwitz
Töpferei Birgit
Feder und Buch mit Axel Pfeifer
Lanarius - Handspinnerei
Fabula Lavendula
Klangstand Götz Raguse
Edles Geschmeide mit Doris und Günther
Gewandatelier mit Second Hand Bereich – Sabine Zieseniss
Tigers Allerley
Kol Ohlyson Schmiede – Andreas Ohly
Vehi Mercatus
Alexina Brettchenweben
Pärla ad Halvar mit Birgit Wendel
Töpferei Birgit
Steinreich Steinfiguren
Kunst und Gebrauchskeramik
Töpfern mit Besuchern
Culinary and Wellness
Verleihnix - Flammlachs Bräterei und Irish Pub
Met und Imkerei - Uwe Hoyer
Die Schnapsdrossel
Das Knoblauchbrot
Saladin Orientalische Spezereyen
Teehaus Heydenspass
Badehaus und Schwitzzelt
Bences Baumstrietzel
Peters Badehaus
Käsespezialitäten
Toilettenwagen4u
Musical entertainment
Des Wahnsinns Fette Beute
Spielleute Gugelhupf
Thomas Hordagrim Spielmann
Castle revival - Herzberg Castle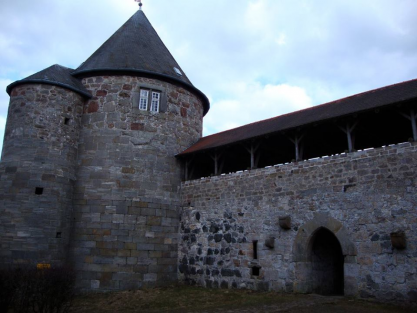 How was food prepared, how they fought and worked in the 15th century?
Visitors to Burg Herzberg can get this picture several times a year. Under the motto "Experience the Middle Ages", the "Bowguard Duke of Lancaster" in and around Herzberg Castle organizes an insight into the Middle Ages for all visitors. Together with fellow performers from home and abroad, the old walls will be actively used again. A castle revival is thus almost a museum event to experience, touch and try out.
As a rule, the actors perform extensive research in order to reconstruct life in the late Middle Ages in as much detail as possible. The performers are tailoring and sewing their own clothes. In this way, the function of this garments can most likely be confirmed or even refuted. All people gladly shared their knowledge with the event visitors.
 Castle revitalization and Historical market
19th. and 20th. of October 2019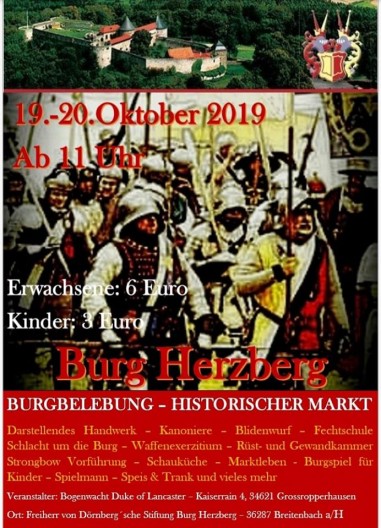 Attactions and camps
Attraktionen und Lager
Waffenkammer
Falknerei des Grafen
Ulfers Schmiede
Eltrids Kinderanimation mit Armbrustschiessen und Schminkerei – Eva Oswald
Bogenwacht – Bogenschießen für Groß und Klein
Steinschleudern für Jedermann
Der Schauster
Carola Korbflechterin für Kinder
Der Schildermaler
Handgravur mit Joop Hoevenaar
Gwenlyns Haarflechterei
Schauküche mit Nadine Krombein
Kavallerie der Burgmannen
Ritter von Orffe mit Lothar Wagener
Der Marer
Die maximilianischen Kanoniere
Drey Wunder
Beaufort Compagnie and Friends
The Plantagenets
Dutch Warbow Society
Die Garde
Sons of Archery
Roland von Steffen mit Gefolge
Derer vom Bärenthale – Wolfgang vom Bärenthale
Die Vramschützen
Freie Ritterschaft zu Münzenberg
Die Templer
Thüringer Freunde
Lagerleute Greiffenstein
Handwerk der Germanen u.v.m.